Front Office

address and hours
FRONT OFFICE/MAILING ADDRESS: 1 King Street, Burlington, VT 05401
PHONE: (802) 655-4200
GENERAL QUESTIONS: [email protected]
OFFICE HOURS: 9am-5pm, Monday-Friday
CLICK A STAFF MEMBER'S NAME FOR BIO AND CONTACT INFORMATION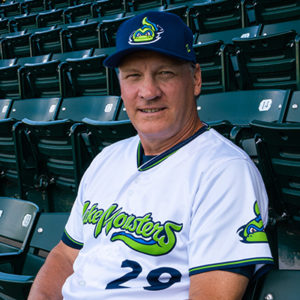 Pete Wilk was named Manager of the Vermont Lake Monsters prior to the 2021 season. In the team's first two seasons as a member of the Futures League, Wilk led the Lake Monsters to the 2022 Futures League Championship after a league record 42 wins (42-24) and 2023 runner-up after setting another league record for wins with 44 (44-19).
Wilk was named 2022 Futures League co-Manager of the Year and 2023 Manager of the Year.
Prior to his time in Burlington, Wilk served as Head Coach of the Georgetown University baseball program since 1999. Wilk molded the Hoyas into a competitive program in the always-tough BIG EAST Conference and his 400-plus wins make him the all-time winningest coach in program history.
While at Georgetown, Wilk was an Assistant Coach for the Harwich Mariners of the Cape Cod summer league,  before taking over the helm of the Mat-Su Miners of the Alaska Baseball League in 1998 and 1999.
Before becoming Head Coach at Georgetown, Wilk served as an Assistant Coach at Georgetown for two seasons (1998-99), Head Baseball Coach at Acton-Boxboro High School in Massachusetts, and as an Assistant Coach at Harvard University for four years (1992-95). He began his collegiate coaching career at Boston University where he was an Assistant Coach for two seasons (1990-91).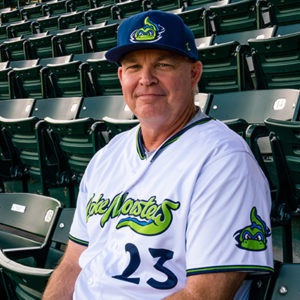 Matt Fincher joined the coaching staff of the Lake Monsters prior to the 2021 season. Fincher joined the Lake Monsters after serving as Head Coach of the University of South Carolina Upstate baseball program for 22 seasons (1998-2019). In 2012 Fincher was named Atlantic Sun Conference Coach of the Year.
The Athens, Georgia native also comes with extensive summer collegiate coaching experience, having served as Assistant Coach for the Chatham A's of the Cape Cod League for 10 seasons (1997-2006) and had his uniform number (#23) retired by the Chatham A's when he retired on August 5, 2006. Other summer collegiate positions included time in the Northeast Collegiate League, the Jayhawk League and the Alaska Central League.
Fincher's coaching career began in 1985 at Eastern Illinois University, where he served as a Graduate Assistant Coach. Other positions included stints as Assistant Coach at Georgia College & State University (1986-1990), Assistant Coach at University of Georgia (1994-1996) and Interim Head Coach at Andrew College (1997).
Chris Richard joined the Lake Monsters coaching staff for the 2021 season. Chris is a native Vermonter, born right here in Burlington. Richard attended Norwalk Community Junior College where he led the NJCAA in batting average, RBIs and home runs before being drafted by the Montreal Expos in both 1998 and 1999. Richard has been active in coaching and instruction locally for many years, including time spent with the Vermont Storm AAU team, Essex Legion and Essex High School baseball programs, and as the PBR Vermont Director of Scouting.
Jenkins joins the Lake Monsters coaching staff for the 2023 season. A 2016 graduate of St. John's College High School in Washington D.C and a 2020 graduate of LaSalle University (majoring in Criminal Justice), Jenkins is currently a teacher and assistant baseball coach at St. John's HS along with being a member of the U.S. Army Maryland National Guard.
While in college, played in five different Collegiate Summer Leagues (Cal Ripken, Ohio Valley, Coastal Plains, Valley Collegiate and Northwoods). After graduation, was an assistant coach for Front Royal in the Valley Collegiate League and assisted in running Naval Academy recruiting and youth camps during the summer.